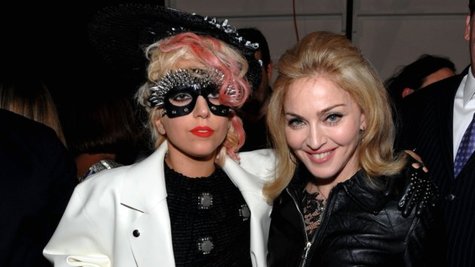 Fans of Lady Gaga and Madonna are like two armed camps. Madonna's fans accuse Gaga of ripping off their Queen, while Gaga's fans think Madonna should get out of the way and let Mother Monster rule the pop world. But one middle-aged man from Brooklyn has started an online petition urging the two superstars to bring their fans together...by teaming up for a joint tour.
The petition, posted on Change.org , is the brainchild of shoe salesman Paul Marinos , who's in his late fifties. It's called "Lady Gaga and Madonna: Perform Concerts Around the World to Stop Hate!" Marinos' son Anthony , who posted the petition, writes on the site, "My father has wanted to see Lady Gaga and Madonna perform on stage together for over a year now...He feels that if these two pop icons can put their disagreements aside and go on a worldwide tour together, it will have a larger impact than just selling more records."
He goes on to say, "Not only could these concerts be some of the greatest performances of the century, but they could also help us send vital messages to the youth of the world. To be accepting and to stop bullying. To learn from those that are different from you. Help make my father's dream a reality and put an end to all of this hatred."
In a YouTube video posted on Change.org, Anthony interviews his dad about the petition. "I had this vision come into my head and it woke me up in the middle of the night," says Marinos. "And I came up with this idea of putting Lady Gaga together with Madonna onstage...I wanna promote it as 'The Legend and the Lady' or 'The Lady and Madonna.'"
Marinos says he wants to "start a revolution for peace" with the mega-show, adding, "Songs of peace and love! Back to the sixties and seventies!"
So far, the petition hasn't attracted many supporters -- at last check, only 278 people had signed it
Copyright 2012 ABC News Radio