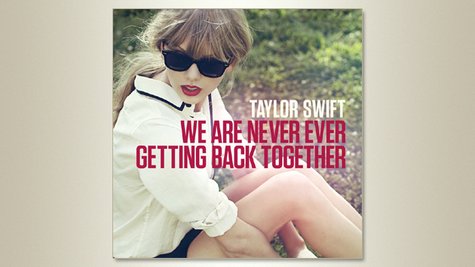 Nobody's better than Taylor Swift when it comes to writing about the wreckage of bad relationships, but Taylor reveals that in addition to being cathartic, writing a song about the dude who screwed you over is downright "fun."
Speaking to USA Today about her hit single "We Are Never Ever Getting Back Together," Taylor explains that the song was inspired by an ex who "made me feel like I wasn't as good or as relevant as these hipster bands he listened to." So how did she exact her revenge?
"I made a song that I knew would absolutely drive him crazy when he heard it on the radio," she says. "Not only would it hopefully be played a lot, so that he'd have to hear it, but it's the opposite of the kind of music that he was trying to make me feel inferior to."
When asked why she'd want to torment the guy in that way, Taylor tells USA Today , "Because that's fun."
USA Today also reports that in addition to British singer Ed Sheeran , Taylor's other duet partner on her upcoming album Red is Gary Lightbody , lead singer of the Irish band Snow Patrol . They're best known for their monster hit "Chasing Cars."
Copyright 2012 ABC News Radio