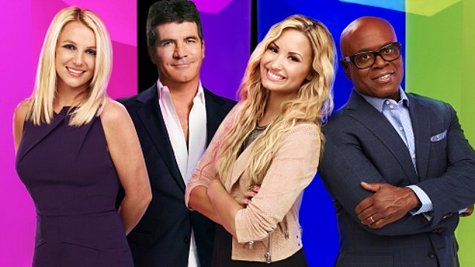 (NOTE LANGUAGE) In what Simon Cowell described as a "total f up," Wednesday's edition of The X Factor on the East Coast was delayed for about 40 minutes by a baseball game and was cut off for good later in the broadcast by an episode of The Mindy Project and more baseball.
The installment was to reveal this season's top 16. Still, East Coast fans did learn about ten acts that advanced. West Coast viewers, however, only got to see an encore presentation of last Wednesday night's show. The mess started when a rain delay forced Game Three of the National League Championship Series between the San Francisco Giants and St. Louis Cardinals to run long.
Cowell tweeted an apology , along with the following comment : "It what's known as a total f up."
Fox issued a press release saying the conclusion of the "Judges' Homes" round of The X Factor will air in its entirety on Tuesday, October 23 at 8 p.m. Eastern time. The network press release states the remainder of The X Factor schedule remains intact, with the first live episodes airing on Thursday, November 1 at 8 p.m. Eastern time.
The action East Coast fans saw centered on the homes of Britney Spears , L.A. Reid and Demi Lovato , with the fate of most of their acts being revealed. Diamond White , Carly Rose Sonenclar , Arin Ray , Beatrice Miller , David Correy , Jason Brock , Tate Stevens , Vino Alan , Jenel Garcia and Willie Jones all advanced.
It was the end of the road for James Tanner , Reed Deming , Daryl Black and Tara Simon .
Here's a rundown of what the judges had to say to their acts about their performances:
Britney Spears/Teens category:
-- Diamond White – Britney loved her performance but thought she showed nerves. But she put Diamond through as one of her final four
-- Carly Rose Sonenclar – Had some stunning points in her performance with great technique but possibly lacked charisma. She advances to the live finals.
-- Arin Ray - Showed he had charisma and charm but Britney wondered if he would stand out on stage. Arin was delighted to be told that he had advanced.
-- Rapper James Tanner – Britney did not believe he had the correct technical capabilities. So, sadly, she sent James home.
-- Beatrice Miller – Her auditions were better than her "home" performance. Nevertheless, Beatrice stays in the contest.
-- Reed Deming – Gave a great performance and was fun to watch but needs vocal training. Britney sent Reed home.
L.A. Reid/Over 25s category:
-- David Correy – Had great energy and a good voice but does he fit pop-culture landscape? He made L.A.'s final four.
-- Daryl Black – Is truly talented, with an amazing voice but lacked passion, so sadly Daryl was rejected.
-- Jason Brock – Possesses a strong voice. L.A. wondered if he fit the pop market. He advances.
-- Tate Stevens – Has a "loveability" factor but need to find some confidence. However, Tate moves on in the contest.
-- Tara Simon – Is an incredible performer and is competitive. L.A. lost sleep over his decision to end her journey.
-- Vino Alan – Has a different and special voice tone but L.A. was not sure how that works in the real music world. A relived Vino advances.
Young Adults/Demi Lovato:
-- Jennel Garcia – Has an incredible voice but Demi had concerns over her confidence. Still, Jennel is in Demi's final four.
-- Willie Jones – Has an inner battle between his country and R& B voices. Still, he advances to the live rounds.
That's when the show ended.
Copyright 2012 ABC News Radio