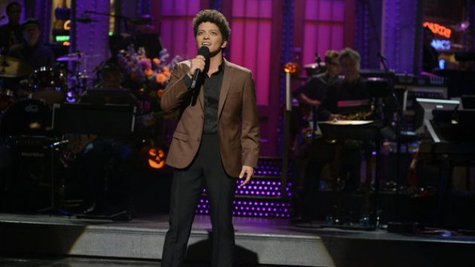 We're not sure if it was hosting talent or his musical talent, but Bruno Mars' Saturday Night Live episode this past weekend, in which he pulled double duty as host and musical guest, scored the highest ratings in seven months for the veteran NBC show.
According to the Hollywood Reporter, the show grabbed a 5.4 rating, the highest for an SNL episode since Lindsay Lohan hosted back in March, and so far the highest of the new show's new season. The Hollywood Reporter says that some of the ratings may be due not just to Bruno, but because political interest is high and people wanted to see how the show would spoof the second presidential debate.
Meanwhile, what was arguably Bruno's best SNL skit -- the one in which he played an intern at an Internet radio company who has to mimic all the company's artists when the power goes out -- isn't available online...at least, not officially. The reason? During the sketch, Bruno sings hits by Aerosmith , Michael Jackson , Katy Perry and Green Day . As AllThingsD.com points out, if NBC doesn't have the rights to those songs, it can't officially make that video available. However, if you poke around online long enough, you can find the clip unofficially posted elsewhere .
Copyright 2012 ABC News Radio