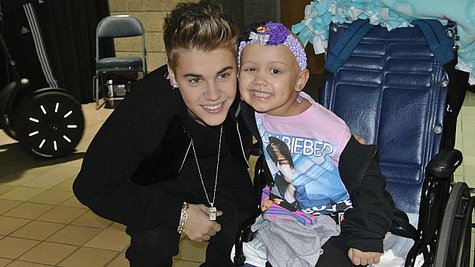 Justin Bieber sure is dedicated to giving back to his fans. On Sunday night, he visited with Hailey Roser , a five-year-old girl suffering from an aggressive form of brain cancer. The five-minute visit happened backstage just before Justin's concert in Milwaukee, Wisconsin and is credited to a social media campaign involving TMZ .
According to the website, a few weeks ago, they were contacted by someone who asked for help in setting up a meeting between Justin and Hailey. TMZ reports that they, in turn, told Justin's manager Scooter Braun about the " Healing Hailey " movement. Back in August, Hailey's parents used Facebook and Twitter to launch the campaign and raise awareness and donations for Hailey.
Early Monday morning, Justin retweeted Hailey's appreciation for the visit, which read, "Sad today is over but happy best day I've had in a long time thanks to all of you love you all especially @ justinbieber for giving me #hope."
In other Justin news, on Saturday the singer took to Twitter to announce the addition of a new crew member to his tour: a pet hamster named PAC. Justin tweeted his announcement with a photo of the furry rodent and added, "This is PAC the hamster my new believe tour pet I will bring him to every meet n greet."
Copyright 2012 ABC News Radio