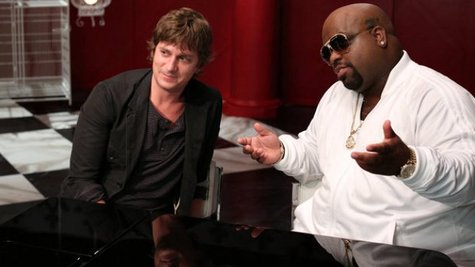 The battle rounds continue on The Voice Monday night, and this year's crop of mentors are having a great time guiding the contestants through their paces.
Rob Thomas , who's a mentor for Team Cee Lo , says, "This is a different gig than the normal gig...it's fun to be a part of. You see it on camera, but to come in and watch from behind-the-scenes and to see Cee Lo and [to see] he actually is committed to this...it's really cool to see."
Rob says that when it comes to giving advice to the singers as they face off against each other, it's all about making sure they remember who they are as artists.
"[I have to remind them] that it's not their job to become the song," Rob explains. "It's their job to make the song fit them. A lot of people come in and they're coffee house guys or they're singer-songwriter guys and they might get a pop song and they're not really familiar with it, but it's still their job to make that fit their style...it's not their job to become a pop singer all of a sudden."
As for which contestants he likes best, Rob mentions Nicholas David , the guy with the long hair, long beard and glasses who triumphed over Todd Kessler when they sang Hall & Oates' "She's Gone" last week. He also likes MacKenzie Bourg , who beat Emily Earle when they sang Owl City & Carly Rae Jepsen's "Good Time."
"When I say favorites, it doesn't necessarily mean they're the ones that I think are gonna win," says Rob. " They're just the ones that really move me...they just have this spirit about them that you kinda feel like no matter what happens in this show, they're gonna go really far."
Meanwhile, over on Team Blake , mentor Michael Buble is such a fan of the contestants that he's actually invited two of them -- Julio Castillo and Terisa Griffin -- to appear on his new album.
"I'm making a record right now and I've written a song called 'Acapulco' and when I heard [Julio], I was like, 'Oh my God. That's perfect...I will totally use him,'" says Michael.
As for Terisa, who was stolen by Cee Lo for his team after she lost her battle against Julio, Michael says, "That voice is sick. That girl can really sing and I love it. She's like a diva already...I need a girl with some soul to sing with. I need a voice that is really distinct and clear 'cause I'm doing a bunch of songs that I think she could really help me on."
Copyright 2012 ABC News Radio