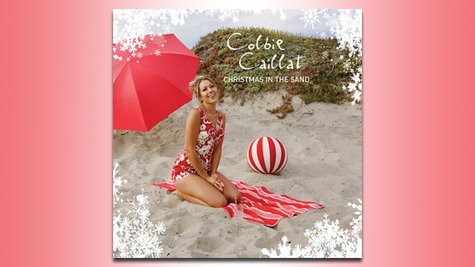 When you think Christmas, you think snow, ice, a roaring fire...and there are plenty of songs to go along with that setting. But what about those people who live in warmer climes? Don't they deserve their own weather-appropriate Christmas songs? Colbie Caillat thinks so, which is why she's just released her first holiday album, Christmas in the Sand .
Though Colbie is from California, she spent every Christmas in the traditional way, at her grandparents' home in Lake Tahoe. "It'd be snowing and we'd have a Christmas tree and listen to Nat King Cole and fires, you know, amazing family dinners and so that's what I grew up with," she tells ABC News Radio. "But now that I'm more of, like, a beach person, [and] I wanna live in Hawaii, [so] I want some Hawaiian, tropical Christmas songs, as well."
So that's what she did. Colbie teamed up with her writing partners Kara DioGuardi and Jason Reeves to create some original Christmas tunes with a more warm-weather feel, including the title track, which imagines Santa in a bathing suit, trying to "catch a wave."
"I wanted a record with your classic Christmas songs and lots of big instruments like orchestra and all that, but...people in tropical places need Christmas songs, too," she says. "And so it's like a more acoustic-based and beach-y vibe on those songs."
As for the classic Christmas tunes she recorded for the project, Colbie explains how she chose from among the thousands of holiday songs out there.
"I went and listened to all my favorites and then, I'm not very religious so I did stay away from some of those songs, and just did it from more of a broad base, so it's more relatable," she says. Among the tunes she chose: "Merry Christmas, Baby," which she cut as a duet with country star Brad Paisley ; "Baby It's Cold Outside," a duet with her buddy Gavin DeGraw ; and "Santa Baby." "There's a lot of baby songs!" she laughs.
To promote the album, Colbie is planning some holiday concerts, and she'll also appear on ABC's CMA Country Christmas special, and on the Macy's Thanksgiving Day Parade.
Copyright 2012 ABC News Radio