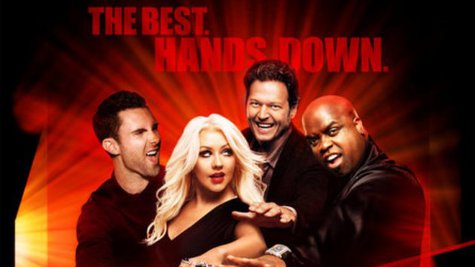 Monday's installment of The Voice featured another round of one-on-one battles between pairs of contestants from the coaches' teams. Advancing on Monday were Devyn DeLorea, Daniel Rosa , Nicole Nelson , Loren Allred , Cassadee Pope and Joe Kirkland . Also, Blake Shelton used his last available steal to add MarissaAnn to his team, keeping her alive in the contest.
Christina Aguilera remains the only coach with one steal left to use, at her discretion. Cee Lo Green and Adam Levine have already used up all their available steals. By using a "steal," coaches get the opportunity to scoop up a certain number of contestants who have been rejected by rival coaches. If two coaches desire the same person, it reverts back to the contestant's choice just like in the blind auditions.
Here are some of Monday's highlights:
Team Cee Lo:
Alexis Marceaux and Daniel Rosa prepared for their performance of Adam Lambert 's version of "Whataya Want from Me," with the help of celebrity mentor Rob Thomas . Both singers were told that they have "an indie vibe" but Daniel struggled with his confidence at rehearsals. Adam Levine loved that Daniel sang with all of his soul. Christina liked the risks that Alexis took. Cee Lo decided to advance Daniel to the live knockout rounds.
Team Adam:
Soul singer Brandon Mahone and "free spirit" Nicole Nelson faced off on the song "Ain't No Mountain High Enough," as sung by Marvin Gaye and Tammi Terrell . Mary J. Blige was on hand to give advice, which was welcomed by the contestants. Mary thought Brandon had an "old soul." Blake liked Brandon's onstage charm and thought Nicole was a real diva. Cee Lo thought the two were evenly matched. Adam was proud of both singers, but picked Nicole to continue on with his team.
Team Christina:
Devyn DeLorea and MarissaAnn are both strong vocalists, so Christina pitched them against each other on the En Vogue song "Free Your Mind." In rehearsals, Christina told the women to choose their moments when to shine. Cee Lo thought MarissaAnn won the battle but Adam would have favored Devyn. Christina was pleased that the performers heeded her coaching notes and said both have superstar potential. In the end, Devyn advanced with Team Christina and Blake used his steal option to add MarissaAnn to his team.
The Voice returns to NBC on Tuesday at 8:00 p.m. Eastern time.
Copyright 2012 ABC News Radio