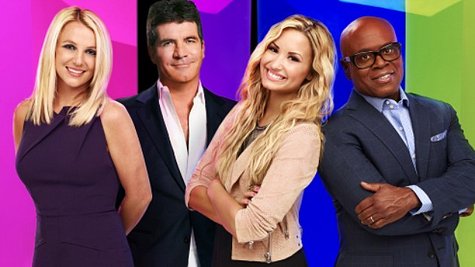 Tuesday's installment of The X Factor saw the completion of the judges' team selections at their homes. Simon Cowell 's final four contestants in the Groups category will be Lyric 145 , Emblem3 , Sister C and LYLAS .
Last week's show on Fox was disrupted by a rain-delayed National League Championship Series game between the San Francisco Giants and St. Louis Cardinals.
A brief recap on Tuesday reconfirmed that Jennel Garcia and Willie Jones would advance in the Young Adults category, mentored by Demi Lovato . Her team is now complete with the addition of Paige Thomas and CeCe Frey .
The live rounds begin next week.
Here's how Simon critiqued his acts on Tuesday's show:
-- Newly formed Lyric 145 features the rapper Lyric Da Queen . Simon liked their "fun" performances. Simon wants an act that will "blow people away," and put an ecstatic Lyric 145 through to the live rounds.
-- Dope Crisis is a duo who Simon thought gave their all in performances. He expressed concern about a place in the market for them and sent them home.
-- Emblem3 had made a mistake in their performance, with one member forgetting lyrics. Simon said that he was impressed with the group since their first audition. However, he noted their performance error. It was good news, though; as Simon told the boys that he thought they were "winners." They advance.
-- Sister C hails from Texas. Simon had previously told the trio that they sometimes come across as "stand-offish." They do, however, have a distinct radio-friendly sound, so Simon decided to keep them in the competition.
-- LYLAS was put together by the judges, keeping five solo female acts in the contest. Simon was impressed with the girls' vocals and put them through to the next stage of the contest.
-- Playback is another group comprised of five former solo acts. The all-male outfit pulled together to impress at Simon's home. But it was not enough to keep them in the contest. Sadly, they left the show.
So, the final 16 acts are:
L.A. Reid/Over-25's: David Correy, Jason Brock, Tate Stevens and Vino Alan.
Britney Spears/Teens: Carly Rose Sonenclar, Arin Ray, Beatrice Miller and Diamond White.
Demi Lovato/Young Adults: Jennel Garcia, Willie Jones, Paige Thomas and CeCe Frey
Simon Cowell/Groups: Lyric 145, Emblem3, Sister C and LYAS
The X Factor will return to Fox on Thursday, November 1 at 8:00 p.m. Eastern time.
Copyright 2012 ABC News Radio