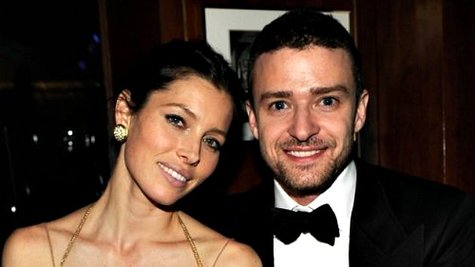 Thanks to People magazine, we already know that Justin Timberlake serenaded Jessica Biel with a newly-composed song as she walked down the aisle at their wedding in Italy October 19. But what was the couple's "first dance" song? Well, it wasn't "Sexyback," that's for sure.
The new issue of People magazine reveals that Justin and Jessica danced their first dance as husband and wife to the late, great soul singer Donny Hathaway's version of "A Song for You." Written by Leon Russell and recorded by countless other artists, the tune is written from the point of view of a performer apologizing for his behavior and praising his lover for her understanding.
The song's romantic lyrics go, in part, "I love you in a place where there's no space or time/I love you, for in my life you are a friend of mine/And when my life is over/Remember when we were together/We were alone and I was singing this song for you."
Justin tells People of his and his new bride's first dance, "That was one of the really special highlights for me. That happens to be one of my favorite songs of all time and Jess's as well." The newlyweds closed down the dance floor at the party at 5 a.m.
Jessica tells People she will be taking her new husband's name in her private life. "My professional name will still be the same, but for life, yes, I think it sounds great. I think I really won the jackpot of names," says Jessica.
Mrs. Timberlake says she's excited to build a new life with her husband. "It's hard to find that one person in the world," adding, "Once you find that person, go for it. That kind of commitment is very special.'
Copyright 2012 ABC News Radio