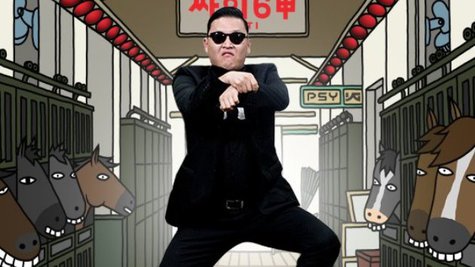 PSY, the South Korean singer and rapper whose "Gangnam Style " viral video is sweeping the world, brought his song and his dance craze to The View Thursday.
PSY, who broke down his moves for the show's co-hosts, explains that the song, sung in his native Korean, draws a metaphor between South Korea's affluent Gangnam District and women. Describing the Gangnam district, PSY explained, "It's noble and calm at daytime and going insane at nighttime. So I compare all the 'sexy ladies' to the district."
And who taught the 34-year-old how to do his signature dance moves? "I just taught...myself," he admitted.
As for what else influenced his style, PSY revealed he went to college in America, attending both Boston University and Boston's prestigious Berklee College of Music. PSY said he fell in love with "huge rock band mania" while in the U.S.

During an "Ask Me Anything" session on Reddit earlier this week, PSY revealed a few more things about himself, including:
--His rap name, PSY, is short for "Psycho"
--The celebrity he most wants to meet is Tom Cruise
--He's going to tour the U.S. "soon"
--His favorite scene in the "Gangnam Style" video is when he's in the elevator and a guy does pelvic thrusts over his head
--His inspiration is late Queen frontman Freddie Mercury
--The only instruments he can play are drums and clarinet
--His favorite "Gangnam Style" version is the one by the Ohio University marching band
Copyright 2012 ABC News Radio