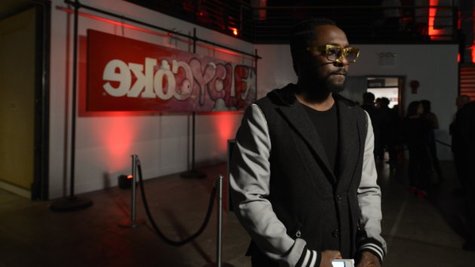 Will.i.am thinks we shouldn't let waste go to waste. That's why he's launched a new initiative making it simpler for things that we normally think of as garbage to be recycled into super-cool, high-end products.
Will's initiative is called EKOCYCLE, and works to identify stuff like plastic bottles and aluminum cans that can be converted into what the Black Eyed Peas frontman calls "aspirational goods." Among those items: Levi's jeans, Case-Mate smartphone cases, Beats by Dr. Dre headphones, New Era baseball caps and more, all sold under the EKOCYCLE brand name. Coca Cola has made a $1 million financial commitment to EKOCYCLE over the next five years.
Explaining the concept at a launch event in New York City earlier this week, Will told ABC News Radio that he felt there was a need for a unifying brand under which recycled products could be promoted to consumers.
"People recycled and they didn't have enough money to market their recycled product. So, their recycled product would always fall in the back and it would always be ugly, and undermined by budget [constraints]," he explained. "So, I was like, 'What if we created a program that brands could all be a part of that was a part of somebody else's brand's marketing?'"
Speaking about this new recycling idea, Will added that he feels that recyclable items like plastic and metal are "waste, because we wasted an opportunity to turn it into something else." He explains, "An empty bottle of water doesn't necessarily have to be turned into another bottled water. It could be turned into jeans. It could be turned into a watch. It could be turned into shoes, glasses. Aluminum cans could be turned into watches and computers and phones."
On the music front, Will says that his long-awaited solo album, #willpower , will be out next year, but he tells ABC News Radio that he's got a new song dropping before Thanksgiving. It's his collaboration with Britney Spears , "Scream and Shout." "Oh, that song is fresh," says Will of the track. "I mean, she came with it. It's a great, energetic song and it's great for the dance floor." The two shot the video for the song earlier this month.
Copyright 2012 ABC News Radio