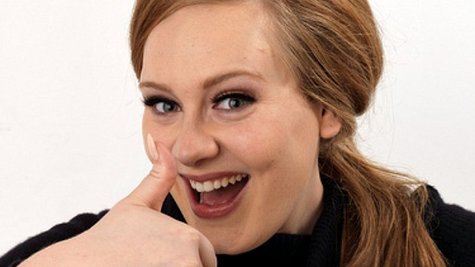 The best part about being new mother who's also a world-famous star is that your fellow celebrities will shower you with super-cool baby gifts. Just ask Adele , whose pal Rihanna reportedly sent her some gifts for her new baby son...and for herself.
The British paper The Sun reports that Rihanna sent Adele two onesies for the baby: one of them says, "My mom is a rockstar," while the other says, "Just done nine months inside." In addition, Rihanna reportedly sent Adele a box of racy lingerie, with a tag attached saying, "You gotta stay sexy, yummy mummy. Enjoy yourself. Congrats!!!"
Of course, the last time there was a British tabloid report about Rihanna and Adele, it involved a story about how Rihanna sent Adele a breast-shaped birthday cake. At the time, Adele took to Twitter to deny that she'd been sent such a cake. It's doubtful she'll deny this report, though, because that might mean she'd have to acknowledge that she's actually had a baby -- something she has yet to officially do.
Copyright 2012 ABC News Radio