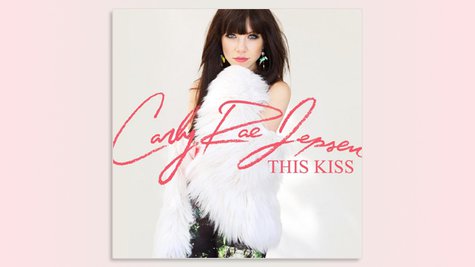 Carly Rae Jepsen does have songs other than "Call Me Maybe," and she even has videos for them. Carly's video for her new single, "This Kiss," is now live online . You can also see it in theaters, where it screens before the movie Fun Size.
In the clip, Carly and her girls show up to a club, where some of the patrons are wearing costumes. She and a cute guy catch each others' eye; Carly makes her way to the back of the club through a red-lit tunnel full of balloons as the guy follows.
Next, we see Carly on stage performing the tune, then dancing with her friends. Both she and cute guy take turns taking Polaroids of their friends in a corner set up for people to don costumes and pose. But when one of her friends taps cute guy on the shoulder, Carly hides behind her, as though she's too shy to talk to him.
Next, we see Carly and her friends dressed up in '80s-style fashions, to match the sound of the song, and they drag cute guy into the picture they're posing for. He grabs Carly by the hand and pulls her away. We see them running into the sunset -- or at least, a painted backdrop that shows a sunset. Then, the two jump into a pool -- how did that get there? -- fully clothed and start smooching underwater.
"This Kiss" is the latest single from Carly's debut album, Kiss.
Copyright 2012 ABC News Radio