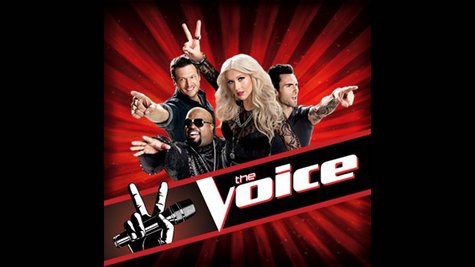 Monday night's edition of The Voice saw the first of the knockout rounds, with Joselyn Rivera , Joe Kirkland , Amanda Brown , Lauren Allred , Melanie Martinez , Cody Belew , MacKenzie Bourg , Trevin Hunte , Nicholas David and Diego Val advancing to the live sing-offs.
Contestants from teams coached by Adam Levine and Cee Lo Green were featured in pairs, each singing songs of their own choice. Each judge made his choice to keep one singer and send the other home.
Christina Aguilera and Blake Shelton were on hand to make comments. Contestants representing their teams will perform in a similar fashion Tuesday. Only five contestants from each team will make it to the live sing-offs.
Here's how Monday's knockouts went down:
Team Adam
--Joselyn Rivera performed "Love on Top" by Beyonce and Kayla Nevarez sang VV Brown 's "Shark in the Water." Blake thought Joselyn had the edge in the sing-off, and Cee Lo agreed. Adam said the girls were two of the best singers in the country, but he picked Joselyn to advance, sending Kayla home.
--Joe Kirkland chose to sing Taylor Swift 's "Mean" and Bryan Keith went with Bryan Adams ' "Everything I Do (I Do It for You)." Blake thought Joe was "cool," while Christina thought Bryan handled the vocal well. Adam thought Joe killed it and that Bryan got better as he went along. In the end, Joe stays with Team Adam and Bryan goes home.
--Amanda Browne performed Grace Potter & the Nocturnal 's "Paris (Ooh La La)." Michelle Brookes-Thompson sang Jennifer Hudson 's "Spotlight." Blake thought Michelle "kicked the door in." Christina called it a "singers' battle." Adam thought he would be a better coach for Amanda, so he advanced her. It was the end of the road for Michelle.
--Loren Allred chose the Amy Winehouse song "You Know I'm No Good." Nicole Nelson decided on "If I Ain't Got You" by Alicia Keys . Blake thought he saw a star born in Loren. Cee Lo loved Nicole's "alive and vibrant voice." Adam had a tough choice but decided to advance Loren, sending Nicole home.
--Melanie Martinez chose to sing "Bulletproof" by La Roux . Sam James sang "Walking in Memphis," by Marc Cohn . Christina thought Melanie was "haunting." Adam's final decision was to take Melanie forward with him on his team, saying goodbye to Sam.
Team Cee Lo
-- Avery Wilson performed Chris Brown 's "Yeah 3x" while Cody Belew took on Dolly Parton 's "Jolene." Adam though that this performance was not Avery's best. Blake agreed that Cody had the better of the contest. Cee Lo decided he would keep Cody on his team for the live shows, letting Avery go.
--MacKenzie Bourg chose to sing "Call Me Maybe" by Carly Rae Jepsen . Daniel Rosa went with Taylor Swift 's "Back to December." Adam liked Daniels' newly-found confidence. Blake called MacKenzie "an artist." Cee Lo liked both guys but chose Mackenzie to advance. Daniel leaves the show.
-- Terisa Griffin , who was performing with a broken ankle, sang "Saving All My Love for You" by Whitney Houston . Trevin Hunte went with Phil Collins ' "Against All Odds." Blake thought Trevin has room to grow. Christina agreed and believed in his talent. It was an easier choice for Cee Lo to pick Trevin over Terisa.
-- Michael Wassman picked Elton John 's "Don't Let the Sun Go Down On Me," while Nicholas David went with "Put Your Records On," by Corinne Baily Rae . Christina thought it was a tough decision but felt Michael connected with the audience. Cee Lo thought Nicholas had the more natural talent and chose to advance him, sending Michael home.
-- Caitlin Michele sang Evanescence 's "Bring Me to Life." Diego Val performed "Are You Gonna Go My Way," by Lenny Kravitz . Adam thought Caitlin's song choice was just right. Cee Lo opted to keep Diego on his team for the live rounds, meaning an early exit for Caitlin.
The Voice returns to NBC on Tuesday at 8:00 p.m. Eastern time.
Copyright 2012 ABC News Radio