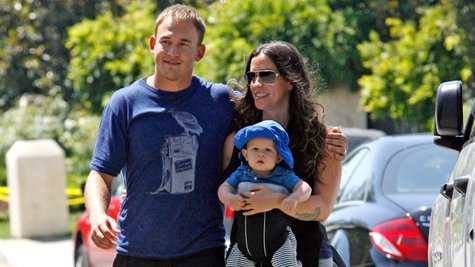 Alanis Morissette 's son Ever is 18 months old, so he's at the age where he may actually be able to appreciate Halloween. With that in mind, Alanis has cooked up a cute family costume idea that incorporates Ever, herself and her husband, rapper Mario "Souleye" Treadway .
Speaking to ABC News Radio shortly before Halloween, Alanis said the costume concept is based on the Curious George animated TV series . "Our vision right now is that [Ever] would be Curious George, my husband Souleye would be The Man in the Yellow Hat and I would be Professor Wiseman...who does not know how to relax!" she laughs.
When asked if Ever really is a fan of George, that legendary monkey, Alanis admits, "I think his mom and dad are equally as big fans!" She laughs, "We're just forcing our poor children to enjoy what we enjoy -- although he does love Curious George ."
But whatever they end up dressing as this Halloween, a bagful of sweet treats isn't in the cards for little Ever. "He doesn't really eat candy, so I don't think he'll be grabbing any candy," explains Alanis. "Right now he's vegan and he eats really, really high nutrients, so we're trying to stave those days off [of him knowing] what candy and chocolate even is."
Copyright 2012 ABC News Radio