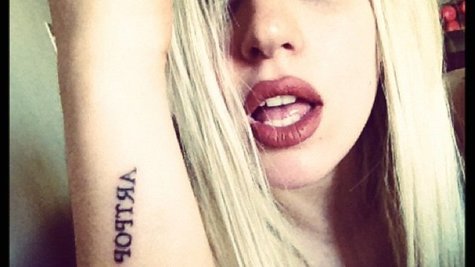 Lady Gaga 's new album ARTPOP is due out early next year, but it looks like fans may get more than they expected from the star: she's considering releasing not one but two volumes.
In a chat with fans on her social networking website LittleMonsters.com, Gaga wrote, "The album is not one kind of music and I think I'm going to release 2 volumes ARTPOP Volume 1 [and] ARTPOP Volume 2. Would put [out] second volume maybe like 6 months after first?"
Explaining the need for two versions, Gaga continued, "Sort of thinking that VOL1 should have all the commercial songs and then save the experimental material. But to be honest, even the experimental stuff is catchy. It's just a bit more modern and you never know if radio is ready."
She used the words "hardcore glam" to describe some of the album's sound, and added that ARTPOP is "nothing like Born This Way but it will feel like a piece the way [that album] did."
In addition, Gaga says she's written two dance songs that were inspired by the fact that her concert was banned in Indonesia earlier this year. "They're more metaphorical, conceptual, about bringing people together," she explained.
Finally, Gaga revealed that the new song she performed in concert several months ago, "Princess Die," didn't make the album, but added that she's written "another version of Princess Die that is uptempo, totally different song, that might." When asked why the first version didn't make the cut, Gaga said simply that it "isn't as good as all the other songs I wrote."
Copyright 2012 ABC News Radio