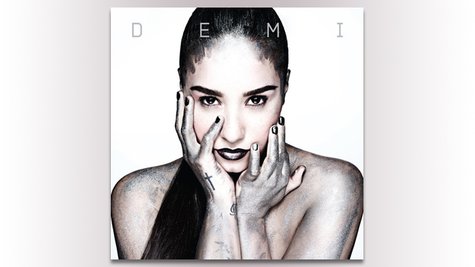 Demi Lovato has now released additional details about her upcoming fourth album. It's called, simply, Demi , and it'll be out May 14. The pre-order begins on Tuesday.
The cover of Demi features the singer apparently topless, cradling her face in her hands with her hair pulled into a side ponytail. Her body and hands are streaked with silvery paint or glitter.
Demi is described as the singer and actress' most personal album to date: she co-wrote nearly every song with such collaborators as Ryan Tedder and the team who penned One Direction's biggest hits. In a statement, Demi says, "I'm incredibly proud of this album. It's better than anything I have ever done! I experimented with a variety of different sounds and poured my heart into writing these songs. I'm so excited for everyone to finally get the chance to hear them!"
The recently re-upped X Factor judge has lined up a media blitz to promote the new release, including the Dancing with the Stars r esults show on Tuesday, ABC's Good Morning America on April 10, Live with Kelly & Michael on April 11, and The Ellen DeGeneres Show on May 13.
Copyright 2013 ABC News Radio