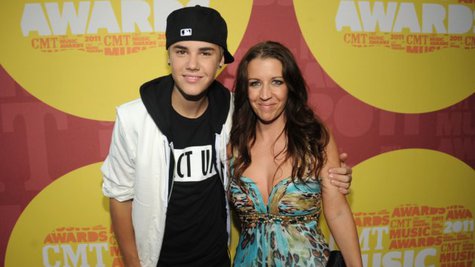 Justin Bieber may currently be embroiled in a variety of messy situations, including a possible charge of battery against a neighbor, but he's still putting family first. His mother will turn 38 on Tuesday, and he wants everyone to help celebrate...by donating money to charity.
Justin's mom, Pattie Mallette , has teamed with the organization Charity: Water to use her birthday to raise money to build a fresh water well in Ethiopia. The goal is to raise ten thousand dollars; so far just over three thousand bucks has been donated. "A woman doesn't usually tell her age...[but] it's worth it to tell you I'm turning 38. Instead of gifts, I'm asking everyone I know to donate one dollar for every year I have lived," says Mallette on the organization's website.
On Twitter , Justin wrote, "Help my amazing mom @pattiemallette raise $10K to build a fresh water well in Ethiopia for her Birthday! #giveback ."
All the money raised will go to fund clean water products in developing countries. As for why this cause is important to her, Mallette explains, "I recently learned that millions of kids around the world don't live to see their fifth birthday because they don't have access to clean, safe drinking water. We can help change that."
It's easy to see where Justin gets his charitable instincts. Now, all he needs to do is stop letting his buddies party in his house , attempting to bring wild animals through customs , and driving his Ferrari up and down the street at -- allegedly -- 100 mph.
Copyright 2013 ABC News Radio