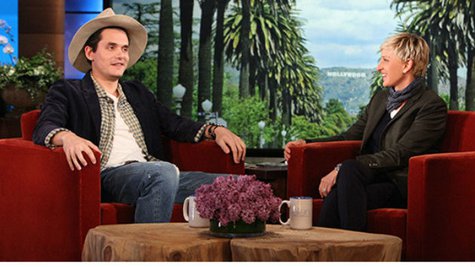 While they were dating, John Mayer and Katy Perry never really talked much about their relationship, and now that they're broken up, John is continuing that practice. Appearing on The Ellen DeGeneres Show on Tuesday, John said he appreciated Ellen's sympathy about the breakup, but didn't exactly dish the dirt.
"It was a very private relationship going in. It was a private relationship during and it's a private relationship still," he told Ellen. "I can understand asking the question based on some previous answers I have given, but I have finally learned how to put the wall between one thing and the other. And I've been much happier since then."
John was no doubt referring to his past reputation for giving way too much information in interviews about his relationships and love life, which in turn earned him a reputation as pop music's biggest playboy.
He added, "I'm on the same journey as everyone else. Coupling is a tricky thing."
The singer/songwriter also opened up about his vocal troubles, which have only recently been repaired following surgery and Botox treatments. He told Ellen that one of the things that exacerbated his vocal problems was the fact that he had developed acid reflux, but didn't avoid those things that made it worse.
"It didn't help that I really loved, love, loved scotch," he laughed. "It's just like applying poison to your body. It's like applying a shellac of poison. It's just delicious, wonderful poison." However, said John, "I had to really say, 'I like singing and writing more than I like delicious scotch,' so I had to really dial it down. And, I'm a little more boring now."
John will kick off his first full tour in three years in July but will make a few other appearances before then, including appearances at Eric Clapton's Crossroads Guitar Festival, the New Orleans Jazz & Heritage Festival, and the Rock and Roll Hall of Fame induction ceremony.
Copyright 2013 ABC News Radio
video platform video management video solutions video player