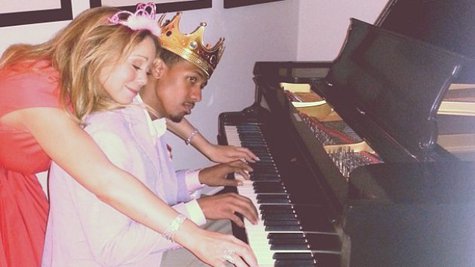 Mariah Carey turned 43 on March 27. Though she didn't publicly acknowledge her birthday on American Idol that night, she's now posted a bunch of photos on Instagram documenting her birthday trip...as well as her gift from her husband, Nick Cannon .
Mariah, Nick and twins Monroe and Moroccan jetted off to an unnamed exotic location after American Idol on Thursday night, and photos show Mariah frolicking in the sea, and Nick and the twins dressed as Easter bunnies , lounging by the pool. The singer also posted a photo of her enormous cake, decorated with a huge butterfly -- the name of one of her albums -- along with the message "Happy 327 Anniversary MC." As most Mariah fans know, the singer refers to her birthdays as "anniversaries." The 327, of course, refers to Mariah's 3/27 birth date.
Mariah also revealed a photo of the "anniversary" gift that Nick gave her: a fully-restored Steinway piano from 1902.
Mariah and Nick's actual wedding anniversary -- their fifth -- is April 30. It's also, conveniently, the twins' second birthday.
Copyright 2013 ABC News Radio