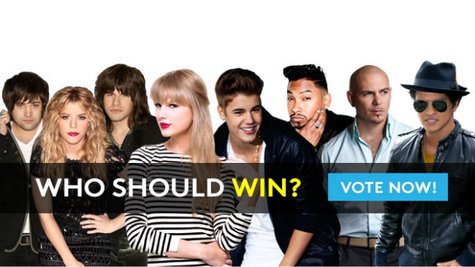 Over the years, artists like Justin Bieber , Taylor Swift and Bruno Mars have routinely broken records on the Billboard charts, and now, they have the opportunity to be honored for those milestone achievements.
As part of this year's Billboard Music Awards, fans will have the chance to vote online for their favorite "Milestone Artist," and Justin, Taylor and Bruno are among the nominees, along with Pitbull , crossover country group The Band Perry and Grammy-winning R&B star Miguel . Fans who vote can also enter a contest where the grand prize will be appearing on stage -- along with Cee Lo Green -- to present the award to the winner at the Billboard Music Awards May 19.
Voting is now open at Billboard.com/milestone and will continue through the actual Billboard Music Awards telecast on ABC. The winner will be announced toward the end of the show. In order to enter the contest, you need to submit a photo and an essay explaining why you think you've got what it takes to hand a heavy chunk of glass to a platinum-selling superstar. Deadline for entry is April 26.
Here are the milestones in question:
Justin Bieber : The first artist ever to have five No. 1s on the Billboard 200 before age 19.
Bruno Mars : Scored his first four Hot 100 No. 1s, including "Locked Out of Heaven," faster than any male artist in almost 50 years.
Taylor Swift : Only woman to have had two albums sell 1 million copies in a week.
Miguel : His hit single "Adorn" spent a record 22 weeks at No. 1 on the R&B/Hip-Hop Airplay chart.
Pitbull: Only artist to have two different top 10 Pop and Latin radio hits, one in English and one in Spanish.
The Band Perry : Scored three No. 1s on the Hot Country Songs chart.
Copyright 2013 ABC News Radio