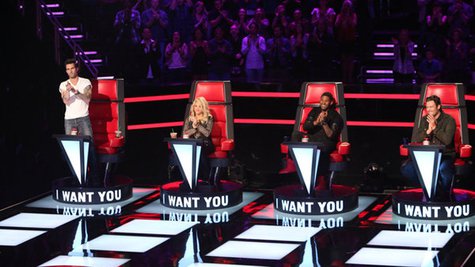 The Voice aired its third night of season-four blind auditions on Monday night. Adam Levine , Blake Shelton , Shakira and Usher were back to listen in on contestants hoping to earn a spot on one of the teams.
By the end of Monday night's episode, Shakira had a total of seven contestants on her team. Adam and Usher had six, and Blake had five.
Here's a rundown of the auditions:
The Swon Brothers from Oklahoma opened the night with a performance of "American Girl" by Tom Petty and the Heartbreakers . Blake, Usher and Shakira all turned around their chairs for the duo. Blake loved the name of the group, joking that one day they may be able to say that they "swon" The Voice . Get it? In choosing a coach, the Swon Brothers said they would "stick with our Oklahoma man," meaning Blake.
Taylor Beckham is a 17-year-old redhead from Dallas who previously aspired to be a gymnast. She showed off her R&B leanings with "I'm Going Down," made famous by Rose Royce and later Mary J. Blige . Usher told her it would be an "incredible journey" to work with her. Adam interjected that he'd rarely seen Usher that excited about a contestant. Though Shakira did her best to convince Taylor to join her team, the teen went with Usher.
Sam Alves , a 23-year-old originally from Brazil, tackled "Feeling Good," which has been recorded by the likes of Nina Simone and Michael Bublé . None of the coaches pressed their buttons for Sam. Adam noted that the song needed a kind of perfection that was lacking from Sam. Shakira, a native of Colombia, lamented the fact that Sam would have to go home.
Adam and Blake really liked Karina Iglesias , 35, who sang "I'm the Only One" by Melissa Etheridge , but for whatever reason they debated what to do until the last possible moment, when they turned their chairs around. Adam complimented her powerful vocals, and Karina eventually selected him as her coach.
Seventeen-year-old Garrett Gardner returned to the Voice stage after a failed audition last season. He did an unusual reggae version of the White Stripes hit "Seven Nation Army." Adam recognized him and said he was so happy that Garrett came back stronger. Garrett joined Team Shakira.
Holly Tucker , 19, is a member of the Baylor University marching band. She belted out "To Make You Feel My Love," which has been recorded by a slew of artists such as Bob Dylan , Billy Joel , Garth Brooks , and Trisha Yearwood . All four coaches made a bid for Holly, who said she identified herself as a country music singer. Not surprisingly, she picked Blake.
Landon Medvec was rejected by the coaches after his attempt at James Morrison 's "You Give Me Something."
The bespectacled Michelle Chamuel delivered a rendition of Katy Perry 's first hit, "I Kissed a Girl." She sought guidance from the three coaches who turned their chairs around for her -- Adam, Shakira and Usher. When Usher asked her which style of music she prefers, she answered that she wants to be an electro-pop artist. She's going to try to make her dreams come true with Usher.
Julie Roberts from Nashville had an interesting tale: she once had a recording contract, with her first album going gold. Around that time she even performed on The Tonight Show . But her second album didn't do as well and she parted ways with her label. She made the bold decision to sing Blake's "God Gave Me You." None of the coaches pressed their buttons. Blake recognized her and apologized profusely for not giving her a chance.
Monique Abbadie , a former child star on a Spanish-language show, kind of sounded like Shakira -- which was good, because she sang Shakira's "Loca." The pop star was impressed by the aggression in Monique's voice. The two will work together going forward this season.
Warren Stone , a firefighter from South Carolina, closed the show with "Colder Weather" by Zac Brown Band . Adam, Blake and Shakira dueled for Warren's services. In a bit of an upset, Warren went with Adam, who called it his first triumph in his occasional battle with Blake for pop/country contestants.
There will be another round of auditions on Tuesday night's one-hour episode of The Voice , airing at 8 p.m. Eastern time on NBC.
Copyright 2013 ABC News Radio