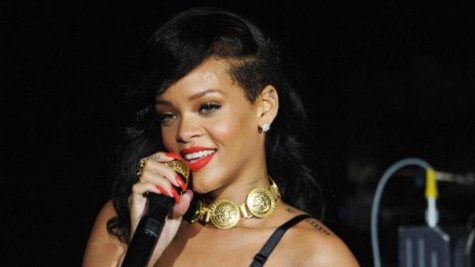 Many of the 200-plus people who joined Rihanna for her 777 promotional tour last year vented frustrations about seeing so-so performances night after night, snoozing uncomfortably aboard a cramped plane and getting almost no face-to-face time with Rih. But the experience doesn't look all that bad in a just-released teaser for Rihanna's upcoming FOX documentary special Rihanna 777 .
The 17-second clip announcing the May 6 premiere of the special begins with a beautiful view as seen from the window of a 777 jet that whisked Rihanna and her large entourage around the globe. There's a brief clip showing cheering fans who raise their hands to catch whirling pieces of brightly colored confetti during a 777 tour concert. Then there's a few quick shots of Rihanna -- boarding a flight, then later looking sultry on the night of a performance.
"MONDAY MAY 6... AN EXCLUSIVE WORLD PREMIERE... ONE WOMAN... TAKES ON THE WORLD," the teaser announces, before closing with a snippet from Rihanna's Unapologetic song "Right Now."
Rihanna 777 is set to air at 8 p.m. ET/PT.
Copyright 2013 ABC News Radio