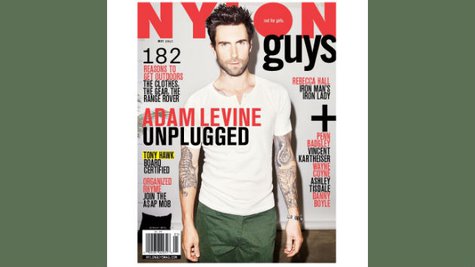 After making his TV acting debut on American Horror Stor y: Asylum , Adam Levine will next be seen on the big screen, playing Kiera Knightley 's boyfriend in a film called Can a Song Save Your Life? And the Maroon 5 frontman says he finds he's already been bitten pretty hard by the acting bug.
Speaking to Nylon Guys Magazine , Adam says of his acting experience, "I don't know what I'm doing. It's fun though. It's really fun to try it. I respect it a lot, so I certainly wouldn't call myself an 'actor.' I'm trying new things and moving really slowly in that world, and not trying to bite off more than I can chew 'cause I don't wanna overstep my bounds."
That being said, Adam says he's discovered that he really enjoys the process. "I'm trying to explore and see if I love it and I kind of really already love it," he reveals. "We'll see. We'll see what happens."
If Adam decides to make acting a permanent part of his repertoire, he'll have to squeeze it in on top of his Maroon 5 duties, as well as his commitment to NBC's The Voice.
" The Voice is fun," he tells the magazine. "It continues to be this really inspiring, fun thing that I never thought was going to be what it is...being part of someone else's career is really refreshing." He adds, "It's also fun to interact with other people. Usher and Shakira have been great, they've really taken to it really fast. Blake continues to be a d**khead and I love him more than anything."
Copyright 2013 ABC News Radio