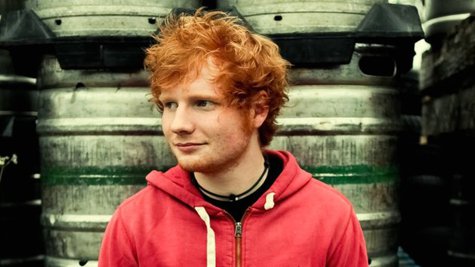 For a guitar player, there are few greater honors than getting your own signature instrument, and that's just what Ed Sheeran is about to receive.
The singer tweeted a picture of a label inside a Martin brand guitar that read "Ed Sheeran Custom LXIE," and captioned it "Signature model prototype." Then he added , "For anyone interested, the Martin signature guitar picture I tweeted is gonna be a model released later this year in shops. Massive honor for me and very exciting, more information to come!"
Ed also used his Twitter page to post a link to a photo something else that's an honor: a medallion stating that he was a Grammy nominee this past year. Yes, he received the actual nomination in December, and he didn't actually win a Grammy, but it's all good. "Got presented my Grammy nominee medallion today. I know I'm late. But buzzin," he tweeted.
And here's another thing that Ed has to be proud of: his relationship with Taylor Swift . Or, rather, Taylor Swift's cat. Ed and Taylor aren't dating, but they're good friends, and he tells People magazine that he's one of the few who's gotten the approval of her beloved kitty, Meredith , who Taylor is constantly tweeting photos of.
"We get along," he says of his experiences on the road with Taylor, Meredith and their entourage. "She won't hang out with the dancers, but she'll come and hang out with me."
Copyright 2013 ABC News Radio