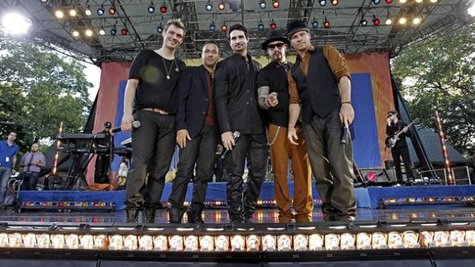 Last June, it was announced that the Backstreet Boys would receive a star on the Hollywood Walk of Fame. Now we know exactly when and where the ceremony will take place.
The guys will get their honor on Monday, April 22 at 11:30 a.m. PT, and their star will be located at 7072 Hollywood Boulevard, next to that of another famous boy band, Boyz II Men . It'll be the 2,495th star on the Walk of Fame, in case you're keeping count.
Super producer and hit songwriter Max Martin , the man behind many of the group's biggest hits, will be on hand to pay tribute to the group, as will a "special Backstreet Boys fan" whose identity has not been revealed. Can't make it to Hollywood? Watch the whole thing live at WalkofFame.com .
The Walk of Fame honor will take place two days after the Boys celebrate their 20th anniversary: they date their official start to April 20, 1993, which is the day that Brian Littrell officially joined the group and completed the lineup. They'll host a "fan celebration" event at L.A.'s Fonda Theater on that day.
Copyright 2013 ABC News Radio