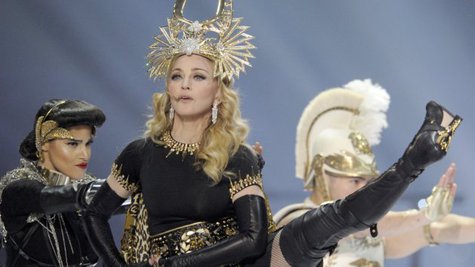 Madonna is giving the shoes off her feet to help her daughter's New York City school. She's one of several stars who have donated their footwear to a special auction that will raise money for LaGuardia High School of Music, Art and the Performing Arts, where Madonna's daughter Lourdes is a student.
The auction, which goes live April 24 on GottaHaveRockandRoll.com , includes a pair of leopard-print, thigh high Miu Miu boots worn by Madonna, and she's personally autographed both of them. A pair of pink platform shoes that Britney Spears wore during her 2000 Crazy tour are also on sale...size 8, by the way. Ke$ha 's high-top Puma sneakers are also up for grabs, personally signed by her, as are a pair of white Air Jordans worn by Eminem . Another lot is a pair of leather boots worn by Miley Cyrus in a 2008 Got Milk? ad.
One of the more unique items in the auction is one of Janet Jackson 's baby shoes , autographed by the singer and encased in a frame along with a signed photograph of Janet as a little girl and a signed picture of Janet in the '80s.
Footwear by Sarah Jessica Parker, Shaquille O'Neal and even Elvis Presley is also going on the auction block. Prices range from $100 to $5,000 -- that's for Elvis' boots -- and proceeds will go to the school, whose alumni include Nicki Minaj , Jennifer Aniston , Robert DeNiro , Al Pacino and Sarah Michelle Gellar , just to name a few.
Copyright 2013 ABC News Radio