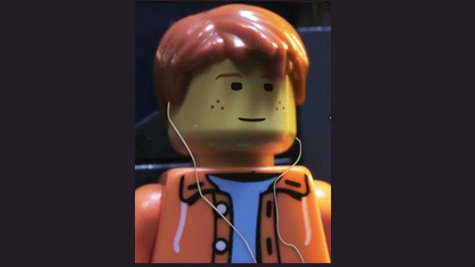 Following Ed Sheeran 's earlier tweet that a video done entirely in Legos was in the works, the pieces have snapped together for the video premiere of "Lego House (Lego Version)." The singer took to Twitter to announce the debut of the all-Lego video, which was animated by Dylan Woodley.
The video features a split screen: one side shows the original video, while the other side is its Lego equivalent. The video shows actor Rupert Grint -- better known as Ron Weasley from the Harry Potter movies -- and his Lego twin as they stalk Ed and his Lego equivalent.
Fans should let go of any concerns that the Lego video differs drastically from the original. It's essentially a shot-by-shot remake of the original "Lego House" video, complete with the scene where the real Lego Ed comes face-to-face with stalker Lego Rupert as he's escorted by security out of a concert, only to later console himself on his Lego couch with his Lego Ed Sheeran mannequin.
Fans seem pretty stoked about the unique video treatment. Several tweeted their support for the clip, with one complimenting Ed for making such a cute Lego figure and another recommending that any documentary about the singer's life also be done in Legos.
Copyright 2013 ABC News Radio