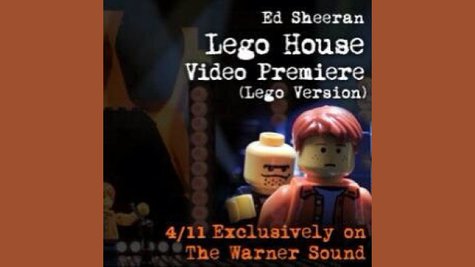 Thursday will see the premiere of a special video for Ed Sheeran's latest hit "Lego House" -- done entirely in Legos.
The video will premiere on The Warner Sound YouTube channel, and Ed couldn't be more excited. Tweeting a photo of the Lego video, he wrote , "This is happening and it's so awesome it's unreal." He added a few days later, "Seriously, it's so awesome."
In the original "Lego House" video , actor Rupert Grint -- better known as Ron Weasley from the Harry Potter movies -- plays a psycho Ed Sheeran stalker, who dresses like Ed, hangs photos of him in his house, talks to a dummy dressed like him and even collects his old chewing gum.
Eventually, Rupert, dressed as Ed, tries to stage crash one of the singer's concerts, only to be tackled and bundled off by security. He tries to get on Ed's tour bus, but is thrown off. Finally, as security is escorting him away, he comes face to face with the real Ed, who looks at him quizzically and then continues on. The video ends with Rupert on a couch, listening to Ed's music and cuddling with the "Ed" dummy.
From the photo tweeted by Ed, it appears as though the Lego version of "Lego House" will be a shot-by-shot remake, because we see a Lego figure of Rupert and a Lego figure of the security guard who's hustling him off the stage.
By the way, if you're wondering if the Lego people were upset at first that Ed used their brand name in his song, they weren't. Ed told ABC News Radio, "I got word from them that their sales went up 12 percent so I think they're happy with it!"
Copyright 2013 ABC News Radio