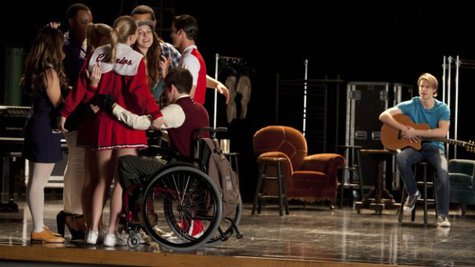 Glee's episode on Thursday is not your typical lighthearted installment about life at McKinley High: the show is tackling the issue of school shootings head-on. Creator Ryan Murphy has called it the "The most powerful, emotional Glee ever."
While not officially announced by Fox, the episode has been screened by critics and spoilers are everywhere. Suffice it to say that the episode focuses on what happens to the main characters when gunshots ring out at McKinley High and the school goes into lockdown. The glee club members, trapped in the chorus room, are terrified and try to deal with their fears that they may never see their loved ones again.
As a result of the serious nature of the show, there are only three musical performances this week, and two of them are in the first 15 minutes.
Ryder sings Elton John's "Your Song" to the girl he's been crushing on online, who is, in a Catfish twist, revealed to be a McKinley student. In addition, the kids perform Extreme's 1991 #1 hit "More than Words" -- dedicated to Brittany's cat, Lord Tubbington -- as well as John Mayer's "Say." Both songs deal with the concept of how important it is to tell, and show, people that you love them.
Copyright 2013 ABC News Radio