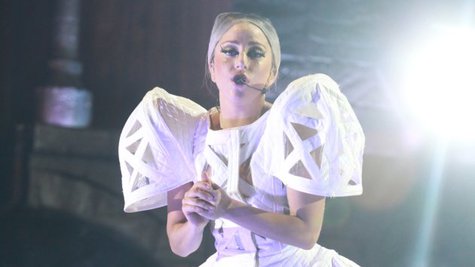 Here's another sign that Lady Gaga is on the mend: she's been spotted out on the town with her boyfriend, and her wheelchair was nowhere in sight.
Previously, Gaga had been seen walking into a yoga class in New York City, but she was taken out of class in a wheelchair. Now, the New York Post reports that Gaga was seen with boyfriend Taylor Kinney in Chicago earlier this week, and the couple entered a restaurant called Sunday -- with Gaga under her own power -- and sat down for dinner. Observers say the two looked "sweet together."
Following surgery to repair a tear in her hip, Gaga had previously been seen rolling around in a gold-plated wheelchair and a Louis Vuitton number.
Even though she's getting better, though, Life & Style magazine reports that fans shouldn't expect Gaga to be back onstage any time soon. A source close to Gaga tells the magazine that she "won't be back in action until September," adding, "She's relaxing and rehabbing." The source adds that having to put her career on hold has been "really frustrating" for Gaga, but on the plus side, she's been able to focus on her songwriting, which has been "very therapeutic."
Copyright 2013 ABC News Radio