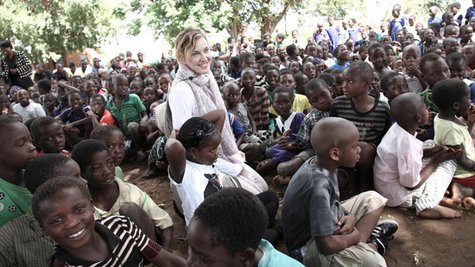 It sounds as if Madonna wore out her welcome in Malawi last week, judging by the statement released by the president of the African country on Wednesday.
President Joyce Banda claims Madonna practically demanded to be treated as a hero while in Malawi to visit schools her charity has built. According to the statement, printed in full in the Malawian newspaper Nyasa Times , Madonna wanted the Malawian government to "roll out a red carpet and blast the 21-gun salute in her honour."
Banda further suggests that Madonna seemingly expected to receive praise for adopting two children from the country, her son David and her daughter Mercy . The statement said, "Kindness, as far as its ordinary meaning is concerned, is free and anonymous. If it can't be free and silent, it is something else. Blackmail is the closest it becomes."
The statement also denies a claim, allegedly made by Madonna, that she was given the cold shoulder at the urging of Banda's sister "following their earlier fallout bordering on a labour dispute." Britain's Telegraph notes that Madonna fired Banda's sister, Anjimile Mtila-Oponyo , as the CEO of her Raising Malawi charity because Banda's sister faced accusations that she stole money from the charity.
Malawian officials also have disputed Madonna's contention that she's built 10 schools in Malawi, stating that she has instead help provide classrooms for existing schools.
Reportedly, Madonna's VIP status was stripped from her before she left the country, and she was forced to go through customs and security with other passengers at the Lilongwe airport.
In a statement, Madonna says she is "saddened" that Banda "has chosen to release lies about what we've accomplished, my intentions, how I personally conducted myself while visiting Malawi and other untruths. I have no intentions of being distracted by these ridiculous allegations."
She adds, "I will not be distracted or discouraged by other people's political agendas. I made a promise to the children of Malawi and I am keeping that promise."
In somewhat-related news, E! News , citing tax documents it obtained, is reporting that Madonna's charity cut ties with the Kaballah Centre International in 2011.
Copyright 2013 ABC News Radio