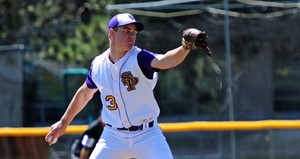 STEVENS POINT, WI (UWSP) - Unfavorable weather conditions have forced the UW-Stevens Point baseball team to move its scheduled four-game home stand against UW-Whitewater from University Field in Stevens Point to Prucha Field in Whitewater Saturday and Sunday, April 13-14.
Game time on Saturday has also been moved back to 1 p.m. Sunday's games will still start at noon.
The Pointers will still be designated the "home" team and bat in the bottom half of each inning.
Alumni Weekend activities will now take place the weekend of April 27-28 against UW-Superior. That four-game series, originally scheduled to take place in Superior, was moved to Stevens Point because of field issues in Superior.
Live stats for the weekend series will be provided by UW-Whitewater.