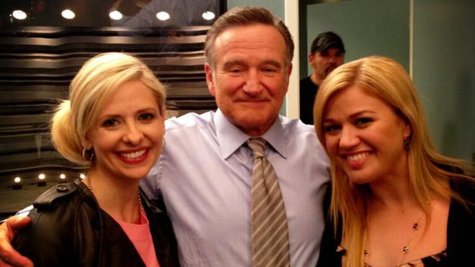 Kelly Clarkson appears to be branching out into TV acting: it seems she's going to appear in a pilot episode for The Crazy Ones, a new CBS comedy starring Robin Williams and Sarah Michelle Gellar .
Williams tweeted a picture of himself posing with Gellar and Kelly with the caption, "It's a wrap! #thecrazyones." Then actress Lauren Graham , who apparently is also in the show, retweeted Williams' post, adding, " @kelly_clarkson with my new fake father-in-law! #worldscolliding."
Kelly responded by tweeting to both Williams and Graham, "seriously, best 2 days! I still can't believe I got to shoot a pilot w/he and Sarah! Love 'The Crazy Ones'!!"
The Crazy Ones , from David E. Kelly , the guy who gave us Ally McBeal and Boston Legal, focuses on a family-run ad agency, with Williams as the patriarch and Gellar as his daughter. If the pilot gets picked up, it'll be Williams' first TV series since Mork & Mindy, which ended in 1982. It's unclear what role Kelly plays in the pilot.
In other Kelly news, she's still buzzing from her encounter with Mariah Carey on American Idol on Thursday. After Kelly performed on the show, Mariah tweeted, "Kelly was spectacular...LOVE her!!" to which Kelly replied , "seriously girl, you have no idea how cool tonight was for me!"
Copyright 2013 ABC News Radio