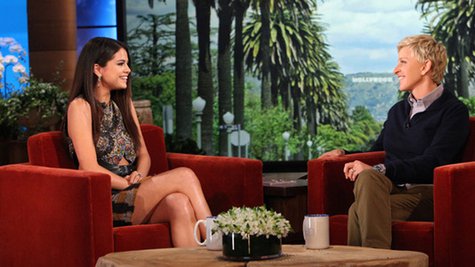 Selena Gomez has moved on from Justin Bieber . Now, the 20-year-old is sharing what she's looking for in a future boyfriend .
"Someone that could make me laugh... [and is] great to my parents," she said on Tuesday's Ellen DeGeneres Show .
Still, it's clear who her real crush is: Brad Pitt . Selena gushed about meeting the movie star for the first time at the MTV Movie Awards last weekend.
"I was in my dressing room and I had just finished performing, and [the production crew] knocked on my door and they said, 'Brad Pitt would like to come in' and I was like, 'Well, he can come in,'" Gomez said. "I was trying to play cool and be really nice and as soon as he walked out I ran and I hid under the craft service table for like two minutes because I couldn't believe it was happening."
Selena added that Pitt wanted to meet her to take a photo because his daughters are fans of Selena's. Brad's presence on the front row during her Sunday night performance at the awards, where Selena debuted her new single "Come and Get It," also made her extremely nervous.

"In my eyes I'm 20 so people [who] are more experienced than I am, I feel like I kind of have to prove myself so I'm just trying to do as best as I can," Selena admitted.
Selena also talked about her friendship with Taylor Swift, and revealed that she, Taylor and some of their friends are all part of something called "The Lonely Girls Club." "Taylor hosts this thing where all of our single friends...get together and get really bad junk food and she cooks some kind of cake and we play with [her cat] Meredith...[and] we just talk about how we're single," Selena explained.
The singer and actress also admitted that she would attend these parties even while she was dating Justin Bieber. "I just enjoy Taylor and her parties," laughed Selena. "They're fun."
Copyright 2013 ABC News Radio
video platform video management video solutions video player