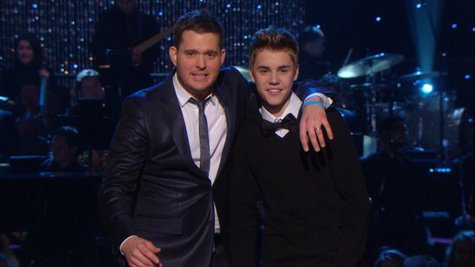 Justin Bieber 's gotten a lot of bad press lately, but one fellow Canadian artist is coming out in support of the 19-year-old superstar: Michael Buble .
Michael tells the British paper The Daily Star that people shouldn't be so upset about Justin's missteps, which include running around half-naked, showing up to concerts late, allegedly smoking pot, allegedly getting into a fight with a neighbor and making what some feel are insensitive comments about Holocaust victim Anne Frank . As Michael points out, how many of us could have handled the level of fame Justin has without making similar mistakes?
Says Michael, "I'm glad I didn't achieve fame until I was almost 30...if it had happened when I was 17 I would have been a pr*ck." He adds, "I think, for what Justin Bieber has been through, he is remarkable. He has handled it with dignity. I am a fan of the way he handles himself."
In fact, Michael says, Justin should be rewarded for some of his naughty behavior. "They should give him a medal for smoking a joint," he says. "It made him human –- he's just a kid."
Michael welcomed Justin as a guest on his first NBC holiday special in 2011. He also dressed like Justin in the video for his single "Hollywood," which is about the negative effects of fame.
Copyright 2013 ABC News Radio