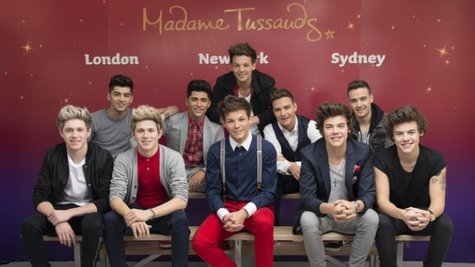 If you can't get up close and personal with the real members of One Direction , just drop by Madame Tussauds famous museum in London and hang with Zayn , Niall , Harry , Liam and Louis ....in wax.
The members of 1D got a private look at their figures on Tuesday, and were "stunned" by how much they resembled them. "They're bang on," said Zayn, while Niall added, "This is weird: he's wearing my actual shoes!" Liam said, "This is definitely a privilege, getting a wax figure, while Harry called it "amazing" and "such an honor."
One Direction is the first boy band since The Beatles to be immortalized by Madame Tussauds. The group's personal hair stylist made sure their 'dos were completely authentic, and they wear the boys' own clothes, donated by them personally. The figures are posed together sitting casually on a bench, so fans can sit right next to them and pose for photos. Each figure cost a whopping $229,000 each to create.
The figures, unveiled this week in London, will remain there for 12 weeks, and then go on a world tour that will include stops in New York, Sydney, Australia and other cities.
Copyright 2013 ABC News Radio