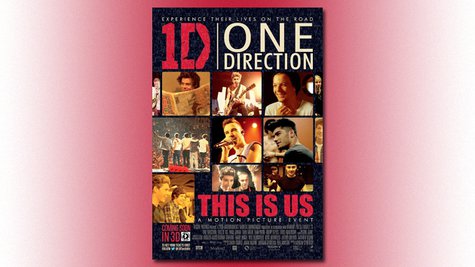 One Direction has unveiled the poster for their upcoming 3D movie This Is Us , and if you look real hard, you just may see yourself on it.
Since February, fans have been submitting photos to One Direction's website in hopes that they will be used on the poster. If you squint really hard, you can see that the poster background is indeed composed of hundreds, perhaps thousands, of tiny photos of fans. You can even use your smartphone to scan a code on the poster, which unlocks exclusive video content. You need the "Zappar" app to that, but you can download it for free.
A digital version of the poster, which includes even more fan photos, will appear online in early May at 1ThisIsUs-movie.com . The movie itself arrives in theaters August 30.
1D is also celebrating an anniversary of sorts. In July of 2010, the five members, all of whom failed to advanced on the U.K. version of The X Factor as solo artists, were put together as a group. That was, apparently, 1,000 days ago, as Directioners turned #1000daysof1D into a trending topic Thursday night.
"1000 days of being in the band? Wow that really is incredible :) Amazing that you guys have shaped our career! Thank you so much," tweeted Louis Tomlinson . Harry Styles added, "This is amazing, thank you all so much for all your support. That's a lot of days. We love you .xx." And Liam Payne chimed in, "Wowee #1000DaysOf1D the best 1000 days of my life, spent with the best 4 brothers i could ever of wished for and the best fans ever! #thanku ."
Copyright 2013 ABC News Radio