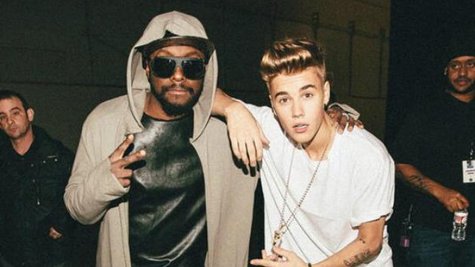 will.i.am sure gets around: He just released a video for his collaboration with Justin Bieber, and he's also jumped on a remix with Ke$ha.
The video, for the song "#thatPower," uses a clever special effects trick to get around the fact that Justin obviously wasn't available to appear in the clip in person: Justin appears as a hologram.
In the clip, Will drives through a tunnel in a super-futuristic blue car, steps out of the car and places what we'll call a "power cube" on the ground. It generates the Justin hologram, kind of like how R2D2 projected that image of Princess Leia in Star Wars . Holo-Bieb then sings the song's hook, "I'm alive I'm alive I'm alive/And oh, I can fly I can fly I can fly."
For most of the video, though, Will is trailed everywhere he goes by six guys who are dressed exactly like him. They do synchronized choreography in a variety of futuristic-looking locations, as well as on a soundstage where the lyrics of the song flash electronically behind them. Every once in a while, Will puts the "power cube" down and Holo-Bieb appears to sing.
Toward the end of the clip, Will and his lookalikes come face to face on a set of stairs with six other guys who are also dressed identically. Will takes the "power cube" out of a briefcase, there's more synchronized choreography with Will, his lookalikes and the newcomers, and then he holds the power cube over his head: a stream of bright light shoots up into the sky and the clip ends.
As for the Ke$ha collabo, Will appears on a remix of "Crazy Kids," a song from Ke$ha's current album, Warrior . The song will hit all digital music providers on April 30, but you can listen to it on Soundcloud now. Ke$ha's MTV docu-series My Crazy Beautiful Life premieres on April 23.
Copyright 2013 ABC News Radio