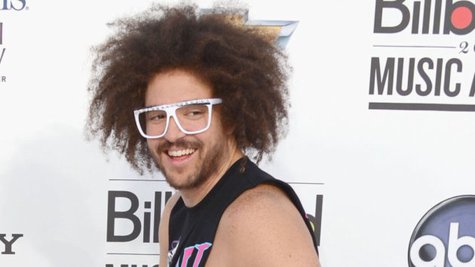 LMFAO may be on hiatus right now, but that doesn't mean that frontman Redfoo is just sitting around doing nothing: he's got a new job as a judge on Australia's version of The X Factor. The Party Rocking rapper just boarded a flight to Australia to take part in the auditions for the show's new season.
Describing his approach to judging the show, Foo tells the Australian paper The Telegraph , "What will happen is I will just get into a zone and that is what the world has gotten from Redfoo, just a guy being himself, and that is what makes me unique. I just follow my gut, follow my instinct and follow my feelings. I just want to have fun." He adds, "The main key for me is just being myself."
Redfoo says he's keeping an open mind about the auditions in Sydney, Australia, noting. "I have no idea what to expect. I've just made it like a blank slate and I am just naturally going to go with whatever piques my interest at the time. I am going to let it happen, let me naturally be attracted to the talent."
Redfoo has another motivation for spending time in Australia: it allows him to be closer geographically to his pro tennis player girlfriend Victoria Azarenka while she competes in China. Redfoo, an aspiring tennis pro himself, tells the paper, "I might, on the off days, go fly and see her," adding, "That's a whole other thing, maintaining the relationship when you are so far away. I might have to get on a private jet for a few days."
Copyright 2013 ABC News Radio