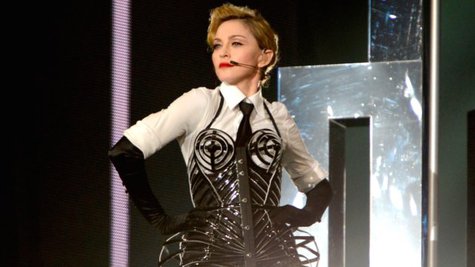 A Russian official who called out Madonna for making a gay rights speech during her concert in St. Petersburg last August is seeking a probe into the performance, arguing that it may have violated the country's visa laws.
Vitaly Milonov , a St. Petersburg City Council deputy, is asking the Russian Prosecutor General's Office to launch a probe into the potential violation by the concert's organizers, claiming the visa issued for Madonna should not have allowed her to earn money in Russia.
Milonov is quoted by the Russian news agency RIA Novosti as saying, "I do not like the fact that a person earned money in Russia and did not pay taxes." He says Madonna collected 1.1 million dollars for the performance.
Milonov, the author of an anti-gay law in St. Petersburg, previously criticized Madonna after she delivered a speech about gay rights at the show.
In unrelated Madonna news, her brother, Anthony Gerard Ciccone , is expected to be charged with felony resisting and obstructing a police officer following a struggle at a venue in Traverse City, Michigan, late Sunday. According to the Traverse City Record-Eagle , Ciccone, 56, was highly intoxicated when he resisted a female police officer who was attempting to arrest him on an outstanding trespassing warrant.
Ciccone, who is said to be homeless, needed nine stitches on his forehead as a result of the incident.
Copyright 2013 ABC News Radio