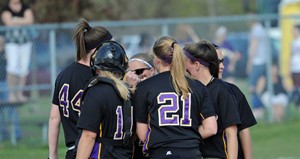 WHITEWATER, WI. (UWSP) – UW-Stevens Point softball had several chances on Wednesday afternoon but could not capitalize, as the Pointers dropped both games of the doubleheader, originally scheduled for Stevens Point.
The Warhawks busted open a scoreless game in the third inning, recording six runs in the frame. The Pointers had no problem getting runners on, doing so every inning, but were unable to push runs across. UWSP outhit the Warhawks 12-9 in the loss.
Jordon Schreiner (Kaukauna, WI/Kaukauna) continued her hot streak at the plate, going 4-for-4 in the game. Sam Raddant (Shawano, WI/Shawano) and Maddie Sawdey (Medford, WI/Medford) also picked up two hits in the contest.
The night cap was a much different story, as the two teams combined for one run and just five hits. The Warhawks were able to plate a run in the top of the second inning and that was all they would need.
Michelle Jones (Madison, WI/La Follette) suffered the loss on the mound, striking out four and allowing just three hits.
The Pointers (17-13, 3-7 WIAC) is scheduled to return to action on Thursday, April 25 against UW-Oshkosh. The game, originally scheduled for Stevens Point, was moved to Oshkosh. First pitch is scheduled or 3 p.m.