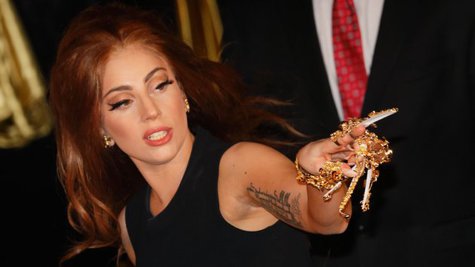 If Lady Gaga is doing Pilates, how long could it be before she returns to the stage? The singer apparently worked up a sweat at a private session in Chicago earlier this month.
Gaga spends a lot of time in Chicago these days, because that's where her boyfriend Taylor Kinney shoots his NBC series Chicago Fire . And the owner of a local Pilates studio tells the Chicago Tribune that the singer's camp called to rent out the entire studio for the star.
Studio owner Corinne Clifton dished to the paper, "It was myself and another trainer in the studio with [Gaga] and her personal assistant. She seems to be in good health. She was walking around totally fine." That's encouraging to hear, since Gaga, of course, had to use a wheelchair for a time after undergoing surgery to repair a tear in her right hip.
However, Clifton says the singer still isn't back to 100 percent. "Her range is limited on her right side," Clifton explains. "She didn't seem to be in pain, but we were also going really slow. I felt like she could have done more, maybe, but we also didn't want to push her the first time."
And what does Lady Gaga wear to work out in, you might ask? Well, sorry to disappoint you, but there were no heel-less platform shoes, crazy hats, colorful wigs or meat dresses on view during the session.
"She was in black stretch pants and a black T-shirt," Clifton said of the star's outfit. "Not a lot of makeup. She's very pretty and in great shape."
Copyright 2013 ABC News Radio