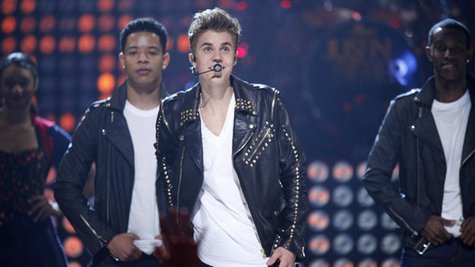 Following the worldwide success of Justin Bieber 's 3D concert documentary Never Say Never , a second movie was inevitable, but director John Chu says the new film, called Believe , will show a completely different side of The Bieb.
Speaking to the Los Angeles Times , Chu, who also directed Never Say Never, says that Justin's new movie, which was shot in Miami in January, was originally going to be another concert flick, but now it's expanded: in addition to onstage footage, it features choreographed dance sequences and an intimate look at Justin's creative process.
"It started as just a concert movie but we've got so many other things now," Chu told the Times . "We have footage of him writing the first song for his next album on a piece of paper with a pencil. Blank page, erasing, writing. That's where it starts."
He adds that the movie captures what it's like to be a young artist taking control of his material, but having to fit it all in with the other demands on his time.
"You get to see the creative process of making songs under this kind of pressure," Chu explains. "Getting producers, writing some things, throwing some things out. Choosing the first single, going into your album. And then once you do that, you've got to put on a show."
Summing up the difference between Believe and Never Say Never , Chu says, "It's almost about a boy becoming an artist rather than a boy's life. Because his artistry is his life now."
Like they did with Never Say Never, Chu, Justin and manager Scooter Braun are hoping to release the new movie in theaters, but they don't have a distributor yet. "We're cutting it and we're going to see who wants it -- maybe it's a pay per view or maybe direct to DVD," says Chu.
Copyright 2013 ABC News Radio