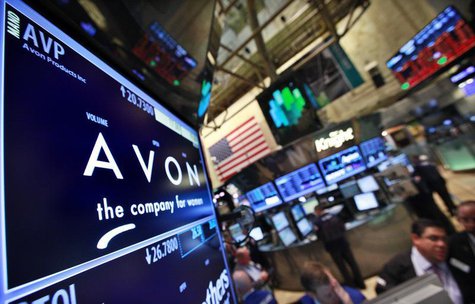 (Reuters) - Avon Products Inc on Tuesday reported a better-than-expected first-quarter profit in the latest sign the beauty products company's business continues to improve, helped by higher sales in key markets Brazil and Russia and cost cuts.
Overall, revenue in the quarter fell 3.5 percent to $2.48 billion, but was flat when stripping away the impact of currency fluctuations. Avon's growth in Latin America and Eastern Europe contrasted with a poor showing in North America, where sales again slid, falling 15 percent.
Avon reported a net loss of $13.7 million, or 3 cents per share, compared with net income of $26.5 million, or 6 cents per share a year earlier.
Excluding items such as a charge related to the recent currency devaluation in Venezuela, a big market for Avon, the company reported adjusted net income was $112 million, or 26 cents per share, helped in large part by cost cutting efforts.
That was well above the 14 cents per share Wall Street analysts were projection, according to Thomson Reuters I/B/E/S.
The company is in the process of cutting $400 million in selling, general and administrative costs per year and has cut hundreds of jobs and exited markets like Korea and Vietnam.
Avon said it sold 3 percent fewer items in the quarter that ended March 31, but the number of sales representatives rose 1 percent.
In Brazil, its top market, revenue excluding the impact of currency rose 11 percent as more sales reps came aboard, its third quarter of growth there after earlier stumbles. Revenue in Russia also improved, rising 4 percent in constant dollars.
(Reporting by Phil Wahba in New York; Editing by Maureen Bavdek)