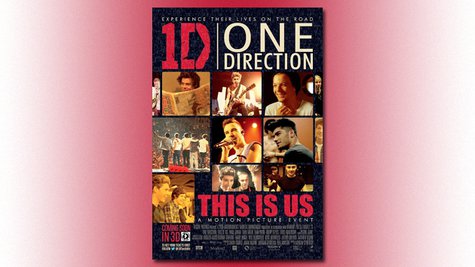 Who wants to wait until August 30 to see the new One Direction 3D movie? If you don't, you now have an opportunity to arrange an early screening in your hometown.
Through the website Tugg.com , you can request a screening of This Is Us in your hometown three days before the national release on August 30. The fifty locations with the highest volume of requests will get the opportunity to have that screening, so you and all your friends can brag that you were the first to see the film.
Here's the catch, though: if you hear that your town has been selected, you and all your friends then have to go online and buy tickets to it. If the ticket threshold isn't met, the screening won't happen -- but if the threshold is met, it'll be confirmed. If the screening falls through, you won't be charged.
This Is Us director Morgan Spurlock says in a statement, "There is still so much about the band that fans don't know. I have been privileged to tell their story in the upcoming film, which I can't wait for fans to see, and I am excited for fans to get a sneak preview through these new and engaging platforms which tie in perfectly with the One Direction story."
Be careful if you do attend an early screening of the movie. According to the Los Angeles Times , hundreds of young fans, who'd been denied entry Saturday morning for a first-come, first-serve advance screening of This Is Us at the Grove outdoor shopping mall in L.A., charged through the entrance anyway, resulting in chaos. Police had to be called in to control the crowd.
The premiere of This Is Us will take place in London on August 20. We hear Prince George , the royal baby, has already sent his nanny to camp out for tickets.
Copyright 2013 ABC News Radio