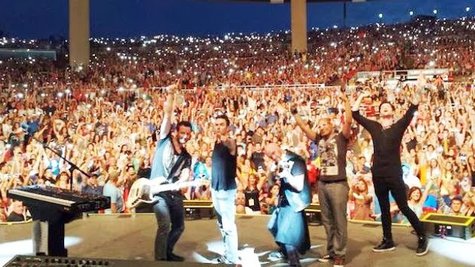 The Script is spending the summer on the road with Train , as one of two opening acts on the band's Mermaids of Alcatraz Tour -- the other is Gavin DeGraw . According to Script frontman Danny O'Donoghue , this is pretty much a perfect triple bill. Why? Just check iTunes.
"If you look on iTunes...you know that list underneath? You normally see either Gavin DeGraw or The Script if you click for Train, or you see Gavin DeGraw and Train if you click on The Script and vice versa, all the way around," Danny tells ABC News Radio. "So it just seems like really a homey...I don't know, I can't describe it. It's just a real family vibe."
The family feel extends to the stage as well, because unlike most tours, where the opening acts don't play together, the Mermaids of Alcatraz tour features a big jam session at the end, with Gavin and The Script joining Train on stage for a version of the classic song "The Weight," by The Band .
And in addition to all the fun times on stage, Danny says the tour's been great because the group's been gaining new fans every night. "In the major cities...they know pretty much every song," Danny says of hits like "Break Even" and "The First Time." "But I think what's even more interesting...is that even in the places where we're not that well known, we find that three songs in, we're turning crowds over...people that hadn't heard of us before were really responding to us well."
"By the end of the gig it's like we were headlining the show," he says proudly.

When the tour is over, Danny says he and The Script will focus on recording a new album, which he recently described as "the most important part of our career as a band." He said that when he was announcing his departure from The Voice UK, where he was a coach for two seasons along with Jessie J , Will.i.am and the legendary Sir Tom Jones .
"I think if you take your eye off the ball, I think you're in serious trouble," Danny tells ABC News Radio, explaining that he left the show so he and The Script could make music their #1 priority. "I just think it's really important to focus everybody, focus the whole band, because America's high on the bucket list," he adds. "You know, we're over here trying to work hard now, and...the most important part of our career is our album, y'know? Our album and our fans and taking this to the next level."
But what about his colleague Will.i.am? There are reports that Will's about to join the judging panel for American Idol season 13, along with Jennifer Lopez . While Danny says he hasn't talked to Will about it yet, so he doesn't know if the rumors are true, he's definitely in favor of the Black Eyed Peas frontman jumping to Idol.
"I think it's a fantastic career move for him," Danny tells ABC News Radio, "Although I'll be sad to see him gone from The Voice UK, he's a brilliant mentor on that. But the thing about Will is he's a jack of all trades, and, a master of many!"
Danny says that if Will does, in fact, join American Idol, "I think he's gonna do brilliant...I think he's going to do an incredible job and they're very lucky to have him."
Copyright 2013 ABC News Radio