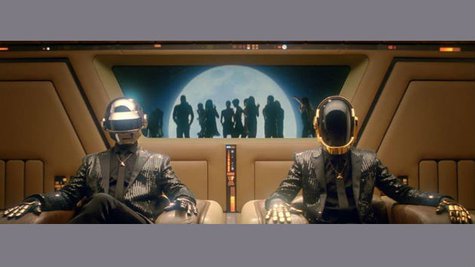 Daft Punk fans were left unsatisfied on Tuesday night after the band canceled their scheduled performance on Comedy Central's The Colbert Report .
At the beginning of the episode, host Stephen Colbert explained that Daft Punk was forced to cancel their appearance because MTV booked the band to perform on this year's Video Music Awards, and had secured exclusive rights to any television appearance by the band leading up to the VMAs.
"We booked click and clack over here about a month ago," he told the audience . "This network is owned by Viacom, which is also the owner of MTV…[Apparently] Daft Punk are going to make a surprise appearance on the MTV Video Music Awards. Don't tell anybody, because fun fact: no one told me until two o'clock yesterday."
While Daft Punk didn't get to perform their smash hit "Get Lucky" on the show, Colbert played a video montage where he danced to the track, accompanied by a number of celebrities including Hugh Laurie , Matt Damon , Jimmy Fallon , Bryan Cranston and Jeff Bridges .
You'll get your chance to see Daft Punk perform on the 30th annual MTV Video Music Awards, which airs live on August 25 at 9 p.m. ET from Brooklyn's Barclays Center.
Copyright 2013 ABC News Radio
The Colbert Report
Get More: Colbert Report Full Episodes , Video Archive