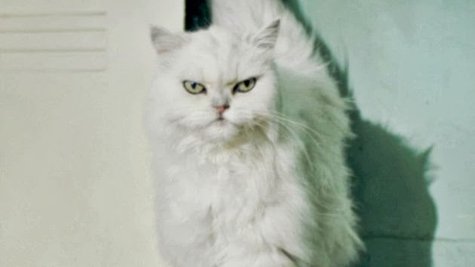 Katy Perry has released yet another video teaser for her upcoming single "Roar," which is due August 12. Unlike the previous two, she doesn't appear in this one, but her favorite animal, a cat, does.
In the clip, a fluffy white kitty enters a room, meows, and then jumps up onto a couch. She finds some sort of feathered...thing -- it's not clear what it is -- on the couch and proceeds to devour it. When she finally swallows the last feather, the cat looks into the camera, opens her mouth and...roars.
Next we hear a tiny snippet of the song, as the words "Roar" and "August 12" flash on the screen. The song sounds upbeat, with a "woah-oh-oh" chorus.
"This one's for the kittens. It's time to make those meows # ROAR, " Katy tweeted .
In her previous teaser, Katy was shown laughing at a funeral as a coffin covered with peppermint pinwheels was lowered into the ground. The one before that showed her lighting one of her baby blue Teenage Dream wigs on fire.
Copyright 2013 ABC News Radio